A. How Is The School Organised To Offer The Ib Programmes?
School Divisions
Pechersk School International, Kyiv is organised into 4 sections as follows:
Early Childhood: EC3 and EC4 (Ages 3 - 5)
Primary Years: Kindergarten – Grade 5 (Ages 5 -1 1)
Middle Years: Grade 6 – 10 (Ages 11 - 16)
Diploma Programme: Grades 11 and 12 (Ages 16 - 19)
Class Size
The preferred maximum class size for EC3 is 18 students; for EC4 and KG it is 18 students. For reasons of safety and control and to assist these young learners, when these classes have eight or more students, a teaching assistant (TA) is employed to work with the qualified classroom teacher. In Grades 1 and 2, a TA is employed once the class accepts its tenth student.
The preferred maximum class size for Grades 1 through 12 is 20 students. However, if and when needed, and with permission of the Board of Governors, classes can consist of up to 22 students in these grade levels.
B. How Is The School Day Organised?
The Daily Schedule
The Primary and Secondary School schedules are very similar, running on a 6-Day Rotation. You will note that the Primary School contains a morning recess, while the Secondary School provides brief breaks between double blocks of time. Both programmes begin at 8:15 and end at approximately 15:15 in the Primary School and 15:20 in the Secondary School.
The School runs on a six-day schedule. This means that Week 1 begins with Days A - E. Week 2 begins with Day F, followed by Days A - D. Week 3 begins with Days E and F and then Days A - C.
Primary Morning Primary Afternoon
Homeroom
8:15 - 8:20
Period 1
8:20 - 9:00
Period 2
9:00 - 9:40
Period 3
9:40 - 10:20
Recess
EC, G2, G5 Recess 9:40 - 10:00
G1, G4 Recess 10:00 - 10:20
KG, G3 Recess 10:20 - 10:40
Period 4
10:20 - 11:00
Period 5
11:00 - 11:40
Period 6 EC LunchK Lunch G1 , G2 Recess
11:40 - 12:20
11:40 - 12:10
12:00 - 12:30
12:15 - 12:45
Period 7 G1 - 3 Lunch G4, G5 Recess
12:35 - 13:15
12:45 - 13:15
12:45 - 13:15
Period 8G4 - 5 Lunch EC, KG, G3 Recess
13:15: - 13:55, 13:20 - 13:50, 13:20 - 13:50
Period 9
13:50 - 14:30
Period 10
14:30 - 15:15
Secondary School Schedule
Overview of the 6-Day Schedule
There are four instructional blocks that are 80-minutes in length.

MYP Language & Literature, Language Acquisition, Individuals & Societies, Science, Maths and PHE lessons will meet 3 of 6 days in the schedule, and Arts and Design lessons will meet 2 of 6 days.

All DP courses will generally meet 3 of 6 days; however, there are exceptions depending upon the nature of the course and its requirements.

Advisory will be daily for 20 minutes between blocks 1 and 2 for all Secondary students.

The lunch period will be one hour in length; MS students will access the cafeteria between 11:25 - 11:55 and HS students between 11:55 - 12:25.

Incorporated in the lunch period will be a period called Flex Time. This will be a 30-minute period where students can join clubs, get extra support from their teachers, engage in recreational activities, or find a quiet place to read. Flex Time can also be used for extra DP HL time when students are engaged in a topic that needs an extended time.

HS students will have study blocks in their schedules. Students in Grades 9 - 10 will have one study block in a 6-day cycle and DP students will have four.
Well planned extracurricular activities have great educational value in broadening outlook, deepening social relationships, providing practical experience in various fields, and offering opportunities to pursue areas of particular talent and interest more intensively. They also provide a means outside the curriculum for students to gain the satisfaction of superior performance, while fostering school spirit and morale, and adding to the pleasure of the educational experience.
Therefore, the School offers extracurricular activities (ECAs) for students. The scope and variety of these activities may vary from year to year. Continuity is encouraged in the major areas of extracurricular activity (e.g. student publications, dramatics, athletics, and the arts).
Our Extra-Curricular Activities (ECA) programme includes a scheduled period after school for children in kindergarten and older, beginning at 15:20 each day. Activities may run for thirty to ninety minutes depending on the activity and the age of the student. The School also offers a Saturday programme as part of our ECA offerings.
Inter-school sports events are actively encouraged, with both local schools and other international schools abroad.
As an extension of the curriculum at all grade levels, students are also encouraged to become involved in community service activities. The School develops links with local community organisations that can facilitate this involvement.
Parents are welcomed and encouraged to join in activities that support the educational and extracurricular goals of PSI and to share ideas that have been successful in any of their previous schools  All instruction must be in English. Any parent who has special skills to offer and is willing to organise an after-school activity can contact the ECA Coordinator ( eca@psi.kiev.ua ).
All activities are included in school fees, including those that are run by outside providers.
Students who are absent from school for any reason may not attend their ECAs on that day. Students who consistently skip an activity for which they have signed up may be dropped to make a place for another child who has been waitlisted. Students who choose to go home instead of attending their ECA need to complete a check out form just as they do when leaving school early for any other reason.
All up-to-date information on ECAs can be found on the PSI website. You can also log into the MyPSI Portal and go to the tab for After School and Saturday Activities.
ECA Cancellations
If any activities are cancelled on a daily basis due to poor weather conditions, a city-wide emergency, or other unpredicted issues, parents are informed by email and our emergency SMS system.
There are specific times when we do not run our ECA programmes due to public holidays or school-wide events. These are planned ahead and are part of the published dates for each season. ECAs are cancelled at the following times:
When there is a major event in the gym or auditorium requiring additional setup or cleaning;

When Primary or Secondary classes are cancelled, both divisions cancel ECAs to accommodate buses and pickup arrangements;

When there is an official public holiday on any weekday, as shown on the PSI calendar;

The day before we break for official school holidays in October, December, February and April / May.
Please note:
ECAs are not cancelled on the Friday before a long holiday weekend (i.e., a Monday public holiday).

When ECAs are cancelled, special arrangements (including use of the school bus) are made for city-wide sports events to continue. These are communicated separately to the families involved.
Super Saturday Sports Cancellations
Saturday activities are cancelled:
When there is a major event in the gym or auditorium on Friday or Saturday requiring additional setup or cleaning

When there is an official public holiday on a Saturday (as indicated on the PSI calendar)

When there is a long weekend (i.e., a public holiday on Friday or Monday)

On a Saturday when we break for official school holidays in October, December, February and April / May, and during those holiday periods
NOTE: Super Saturday Sports are not cancelled when we have a pupil free day on a Friday.
C. How Do I Find Out What's Happening Throughout The Year?
One Page School Calendar
The School publishes a one-page calendar each spring that includes all holiday breaks. It's available on the PSI website and the last page of this document.
School Events Calendar
A PSI Events Calendar provides information about school-wide events. It is updated regularly on the PSI website.
Dates and details of events for approval must be presented to the appropriate principal as early as possible ahead of the event to be added to the calendar. No additions or alterations may be made to the calendar without prior consultation and administrative approval.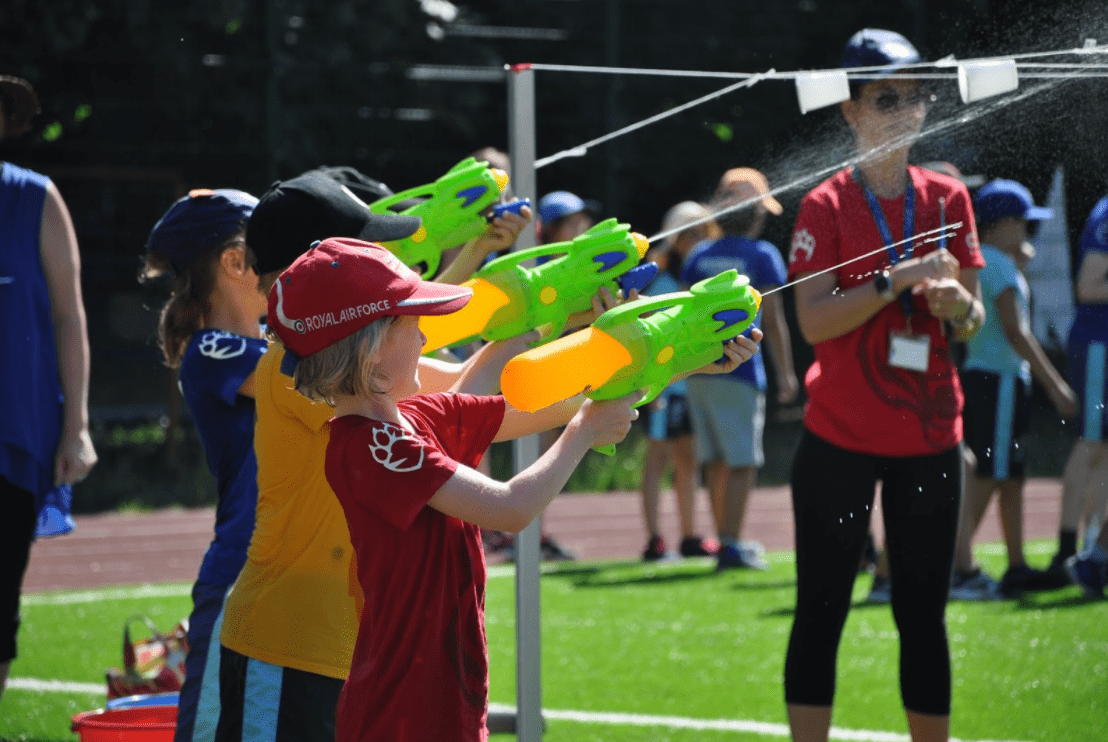 PSI students enjoy some watery fun during the annual summer picnic sponsored by the PTA.
D. How Important Is Daily Attendance?
Daily attendance and punctuality are critically important to academic and personal success at PSI.
Board Attendance Policy
Regular school attendance is mandatory and essential to student learning and development. Details of the PSI attendance protocols are available in the PSI Parent and Student Handbook. Failure to adhere to the attendance protocols may result in further consequences as outlined in the School's attendance protocols, outlined below.
Ukrainian Law Regarding Attendance
This is the summary of legislation from the Cabinet of Ministers 13 September, 2017 N684, Point 13:
Parents or guardians must provide a medical certificate of health or written explanation for every absence.
Schools must provide the names of children who miss 10 working days in a row for unknown or invalid reasons to the National Police and the Service for Children as part of the school's responsibility to protect the rights of all children to receive an education.
Why We Value Attendance
Research clearly states that students who attend school regularly are much more likely to succeed academically ( greatschools.org ). Daily attendance also supports students' social and emotional growth, helps them build relationships with peers, and increases their self confidence.
As an IB World School using an inquiry-based model, students cannot learn what they need simply by completing homework or making up tests. They need to participate in the discussions and activities that are part of learning at PSI.
Finally, daily attendance is an important part of each child's 'citizenship' in the PSI community. They attend school not just to learn from other children, but so that other children can learn from them.
Attendance Protocols
Please note that protocols apply to both Primary and Secondary unless otherwise noted.
Marking attendance

In the primary school, homeroom teachers take attendance at 8:25 in the primary school. Students who are not present at that time are marked as absent.

In the secondary school, teachers take attendance at 8:15 in the first block class.

All students who arrive after late should check in at the Reception desk in the Primary building before going to their class. They will be marked late by the attendance secretary, with the time of arrival noted.

NOTES:

Students who leave before or arrive after 11:30 am will be marked as absent for the whole day.

Students who are absent from school during the day (excused or unexcused) are not permitted to attend after school activities or events.

Secondary

Teachers in Secondary also mark attendance at the beginning of each class period. See section on 'skipping' for more details.

Excused or unexcused

Parents must contact the attendance secretary (absence@psi.kiev.ua ) and the child's homeroom teacher in writing for all absences, regardless of the reason. Please note that students cannot confirm absences. We must hear directly from parents / guardians.

The following are considered as valid reasons for absence:

Medical absences accompanied by a doctor's note

Family emergency (death in the immediate family, accident, etc.)

Religious holidays not in the school calendar

Exceptional circumstances (see below)

School-based trips (CEESA, MUN, etc.)

The School does not use 'excused' or 'unexcused' for routine absences but we do make note of the following exceptions:

Students who are gone for three or more consecutive days are asked to produce a doctor's note or certification of a family emergency.

Students in Secondary who miss an assessment date must have a doctor's note or confirmed family excuse in order to complete the assessment.

Skipping (missing school without school or parental knowledge or permission)

Secondary only

Skipping is a discipline issue. Students who are present in school but not attending certain classes are asked to spend twice the amount of time missed with the teacher or an administrator after school. This time may be served over more than one day.

Students who skip one day will spend a ½ day in-house suspension in an administrator's office and may also be asked to speak with the counsellor. Additional incidents will lead to a parent meeting and a specific contract for behaviour.

Exceptional circumstances

Both Primary and Secondary

Students involved in professional or amateur pursuits that allow them to work or compete at national or international levels receive special consideration from the school, provided that they

Apply in writing at least one week in advance

Maintain passing grades in all classes, with a balance of at home and in school work

Work proactively with teachers during their absences

Do not exceed 20 absences

Students who have long-term absences because of serious medical issues (hospitalisation, surgery, etc.) also receive special consideration from the school, as do students who have serious family emergencies. However, the school continues to track the days missed, and works with parents and students when the student exceeds 20 days.

Parent Communication and Follow Up

The attendance secretary contacts all parents who have not already contacted the School to confirm the absence.

Emails are sent home to remind parents of the number of absences, as outlined below.

Pattern of Absences
At 10 absences in a semester, parents receive letters reminding them of the attendance policy. These are tailored to individual circumstances where possible.
At 15 absences in a semester, the appropriate building principal meets with parents to discuss strategies to improve attendance.

At twenty absences in a semester or a year, the following occurs:

An attendance contract includes the following:

Attendance is monitored for at least one calendar year as part of the contract.

At any point within that calendar year that students exceed 15 absences, the contract is reviewed by the principal, parent and director.

Patterns of Absences in

EC and KG

Absences are monitored in EC3 and EC4. Parents meet with the Primary School principal when their children have more than 20 days out of school to review the attendance procedures. If poor attendance continues beyond those initial 20 days, it will be viewed as part of a pattern, and students will be moved to contract.
Supports

Primary

Teachers can provide homework or study suggestions for absences. Parents who have planned absences should notify teachers and request homework or study suggestions prior to the absence. Parents should understand it will take teachers at least 24 hours to prepare assignments.

Secondary

Teachers at Secondary post all major assessments on our Learning Management System. Students and parents can access that information at any time and contact individual teachers with questions. For long term, pre-planned absences, the school will support the student in developing a plan to complete learning engagements that will be missed during the absence.

Consequences

Primary

At 35 days (approximately 20% of the year) or at 20% of any given unit, teachers will not assess student work.

The principal and director will meet with parents to discuss retention or exit from PSI.

Secondary - Both Programmes

Students who have 20 or more absences that do not fall within the guidelines above cannot receive anything above a C for Attitude and Application, which removes them from consideration for Honours, High Honours and A&A semester awards.

On-going problems with attendance can also affect student participation in CEESA or other overnight programmes. This may include carryover from the previous school year. This will be a case-by-case basis that will also look at academic and behavioural performance.

On-going problems will result in a behaviour contract that needs to be agreed to by the school and family.
Parent and School Responsibilities
Student misses four or more periods in the Primary or two blocks in the Secondary in a day (leaves before or arrives after 11:30)

-Call to explain late arrival or early departure

-Ensure that the adult taking the child home collects the checkout form from Reception.

Provide check out form for students leaving early

Mark students as absent for the whole day

Routine absences
Call in with an explanation; no doctor's note required

Mark students as absent

Track all attendance on transcripts and report cards

Call parents to confirm if parent has not contacted school

Support students in understanding work that they missed

Three or more consecutive days of absence
Call in with an explanation; a doctor's note is required for medical absences upon return

Call parents to confirm if parent has not contacted the school

Support students in understanding work they have missed

Absent on exam / test, presentation, group project (Secondary)
Call in with an explanation; provide a doctor's note or confirmed family excuse

Allow students to make up work on their first day of their return (only with a doctor's note). Students are responsible for contacting the teacher and arranging the appropriate time.

-Not allow students to make up the work if parents have not presented a doctor's note or verification of emergency either beforehand or on the day of return.

Absent during Week Without Walls (Secondary)

-Inform the School as soon as possible and provide a reason for the absence

-Provide a doctor's note (as this will be more than three days of absence)

Students may have alternative assessments given during the Week Without Walls; however, they cannot duplicate work assigned as part of the WWW experience. This may affect their overall grade in some courses

Students are marked as absent regardless of their reason

School is closed to Secondary students during that week

10 DAYS of absence in a semester for any reason

Send a letter indicating the number of days absent and remind parents of future consequences

The School reserves the right to apply other consequences as needed

15 DAYS of absence in a semester for any reason
Meet with school leadership
Contact parents to set up a meeting
20 DAYS of absence in a semester or a year for any reason
Meet with school leadership; sign a contract for improved attendance

Draft a formal attendance contract

In second year of a contract

Reserve the right to retain a student at their grade level in the following school year

Reserve the right to offer or deny enrollment in the following school year

Professional or other obligations as outlined above

Provide the school with one week of advance notice

Work with teachers to understand what work will be missed and what timelines there are

Ensure that students are passing all classes

Work with parents and students to provide a timeline for work missed

Work with the student to create opportunities for the student to share their experience with other students (in classes, at assemblies, magazine articles, etc.)

Long term illnesses

Provide the school with medical certificates and an estimate of number of days that will be missed

Work with teachers to understand what work will be missed and what timelines there are

Work with parents and students to provide a timeline for work missed
Family emergencies (medical emergency in the immediate family, death of a family member)
Notify the school of the circumstances

Work with parents and students to provide a timeline for work missed

Provide counselling as appropriate
Tardy Protocols
5 times late in one semester
Principal emails parents and students as a reminder.
6 - 9 times late
Letter sent to parents, reminding them of the school's start time.
Letter sent to parents, reminding them of the school's start time. Student discusses with Asst. Principal plans for changing behaviour.
10 times late in a semester
Parents meet with principal to discuss importance of being on time to classes
Parents meet with principal and student to develop a set of appropriate responses and consequences
15 times late
Parents meet with principal and student to develop a set of appropriate responses and consequences

Principal meets with parents

Student may have additional consequences

20 times late
Student owes 20 minutes - recess, after school or ECA time.
Students are placed on a contract, which may include additional time before or after school or on Saturday
RESPONSIBILITIES FOR LATE WORK (Secondary)
Work was assigned when the student was present in school

Turn in the work digitally by the assigned due date and time

Send an email to the teacher to let them know that the work has been submitted

Check that work has been turned in on time

Inform parents if a summative assessment is missing

Work was assigned when the student was absent from school

Check MyPSI to find out what was missed

Talk to the teacher upon return to understand missed assignment(s) Note the due date of upcoming work and meet that deadline

Meet with the student upon request to explain the assignment
A test or presentation is scheduled on the day that a student is absent
Contact teacher directly, explain the absence, estimate the time of the absence (in days), and discuss an opportunity to reschedule
Reschedule within a reasonable timeframe, provided that there is a doctor's note or confirmed family excused absence
A group presentation is scheduled on the day that a student is absent
Contact the teacher directly with a cc to all group members, estimate the time of the absence (in days), and ask to reschedule
Reschedule within a reasonable timeframe, provided that there is a doctor's note or confirmed family excused absence
Work Not Submitted
Due date passes with no assignment turned in or extension requested
Submit work for assessment

-Assess all work and provide feedback

-Contact parents to let them know that the work was missed if there is a trend for this behavior

- Accurately report behavior on the report card

Planning Ahead
The Student Will
The Teacher Will
Long Term Absences / Exceptional Circumstances

-Inform the school of any exceptional circumstances for absences

-Work with the teacher on setting appropriate due dates

-Set appropriate new deadlines for students

-Work with students to make sure that they understand the work that has been missed

-Assess and grade all work that comes in by the new deadline
E. How Does The School Assign Homework?
Meaningful, regularly assigned homework is used for varying purposes depending upon grade level. The school views homework as an important link between home and school. It is assigned to make the student increasingly responsible for scheduling and completing their work independently. Homework can also help students reinforce what they learn in class, master their skills, and develop individual interests. Homework should never be 'busy work,' but should be a learning activity that increases in complexity as the student progresses from grade to grade. Homework is not used as a form of punishment.
As a general rule, teachers assign homework on a '10 minutes X grade level' approach. This means that a fifth grader could expect about 50 minutes of homeroom a night, with a ninth grader averaging about 90 minutes nightly. It is important to note that second-language English speakers may take longer to complete assignments, and that the time is not always evenly spaced, so that students may have more homework some weeks than other weeks. IB Diploma students should expect 2 - 3 hours of work to be completed outside the school day.
F. How Does The School Manage Field Trips And Other Off-campus Activities?
PSI authorises and encourages educational visits as part of student learning. The School considers relevant and related educational excursions to be of vital importance to the enrichment of the instructional programme. This includes field trips in the city, visits to special events or performances, and the Secondary School's annual Week without Walls. Classroom teachers organise these excursions as a regular part of the curriculum. See page 60 for more information about how the School maintains safety and security on these trips.