A. What Are The School's Guiding Statements?
Mission
Pechersk School International is a diverse learning community which provides an academically challenging programme in a student-centred environment. As an IB world school, PSI is committed to developing well-rounded, global citizens by promoting personal excellence in the classroom and beyond.
A spirit of collaboration pervades the school, with all members of the school community committed to student success and well being as well as to their own lifelong learning.

Students, teachers, staff, and families working together to ensure student success

Respectful and positive interactions among all stakeholders

A focus on learning for all members of the community

Academically challenging programme

PSI is an IB World School offering all three programmes for students EC - Grade 12. Students are prepared to attend universities that match their needs and abilities.

An IB curriculum framework

Written, taught and assessed curriculum standards based on current best practices

Frequent internal and external, formative and summative assessment

A mother tongue programme

Student-centered environment

Students engage in a wide variety of activities and experiences that promote powerful learning along with increased self-confidence, personal empowerment, and the freedom to explore personal passions.

An IB inquiry approach with the students at the centre of the learning

Extensive libraries and IT resources that support a range of topics and interests

A Secondary School Bring Your Own Device programme to connect students to a wider world

Support for student-initiated action

Global citizens

PSI students and community members are global citizens, empowered to recognise and act on issues of importance in their local and international communities.

Appreciation of local and international cultures

Positive engagement among students within and beyond their own nationality / background

Acceptance and understanding of their own and other cultures

Listening to others and respecting opinions / perspectives

Expressing opinions respectfully

Taking positive action on issues of local, national and global importance

Personal excellence
At PSI, students work with teachers to define their own standards for excellence both in academics and in areas of passion, and work to achieve those

Student goal-setting

Student led conferences, portfolios and showcases

Student-Parent-Teacher Conferences

Standards / Criteria-based reporting

A variety of external and internal assessments, as well as self-assessment and reflection

Recognising high achievement as well as personal effort

A government-authorised Ukrainian Externum Programme

An Academic Integrity Policy

PYP Exhibition, MYP Personal Projects, and DP Extended Essay

Sports competitions, theatrical and musical performances, Model United Nations, Maths Counts, Destination Imagination, and other opportunities that showcase student talent

Placements at top rate universities around the world
Vision
We grow. We lead. We succeed.
Motto
A place where we belong.
Core Values
INTEGRITY, HONESTY, TRUST: We value acting on strong moral principles that build trust within our community.
RESPECT, EMPATHY, TOLERANCE: We value respect and understanding for each other's individualities, cultures, beliefs, ideas and needs.
DIVERSITY, EQUITY, INCLUSION: We value a diverse community where everyone is safe, included, appreciated, and feels free to be themselves.
HAPPINESS, JOY: We value a joyful environment that promotes a happy and motivated community.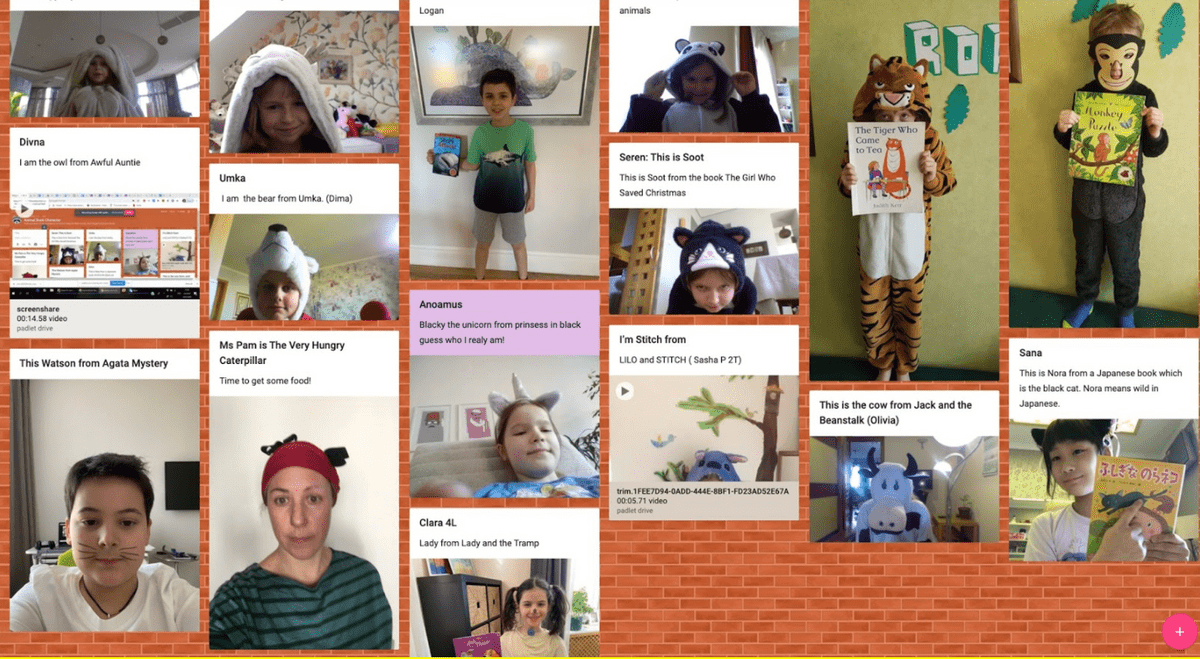 Students and teachers enjoy a dress up day during Literacy Month - even during the quarantine.
Paramaters
PSI:
Maintains its status as a mid-sized IB world day school (not to exceed 600 students) that provides an international education for students aged 3 - 18

Aligns school enrolment, facilities, finances, resources and capacity to ensure sustainability

Maintains the international identity of the school whilst respecting Ukrainian culture

Uses English as the main language of instruction, whilst demonstrating respect of mother tongue languages

Approves and maintains programmes that promote the overall well-being of its students

Ensures students' best interests are at the centre of all decision-making

Enrols students and families, and employs staff who accept and exemplify the school's mission, vision and core values

Only accepts behaviour, from all community members, that ensures the safety, integrity, and dignity of all individuals

Hires and retains qualified and flexible staff members who are committed to ongoing professional growth

Expects direct parent involvement in the lives of their children at school
Diversity Statement:
PSI recognises the responsibility of nurturing a diverse, equitable, and inclusive global society. Together we aspire to create a harmonious community where each person feels that their whole identity is known and respected. We commit to persevering together as we face the inevitable challenges in our ever-evolving journey to create a just and peaceful world.
Definition of Learning
PSI is an IB World School that defines learning as a holistic, purposeful, learner-centred and inquiry-based process. At PSI, learners engage in a personalised journey of discovery, reflection and action, which is motivated by their passions and interests. Recognising that learning is limitless, individuals collaboratively build their knowledge, skills and understanding in academics, arts, athletics, and service, with the well-being of themselves and the wider global community in mind.
IB Mission Statement
The International Baccalaureate aims to develop inquiring, knowledgeable and caring young people who help to create a better and more peaceful world through intercultural understanding and respect.
To this end, the organisation works with schools, governments and international organisations to develop challenging programmes of international education and rigorous assessment. These programmes encourage students across the world to become active, compassionate and lifelong learners who understand that other people, with their differences, can also be right.
The IB Learner Profile for Parents
As a fully authorised IB World School, Pechersk School International Kyiv follows the philosophy and guidelines laid out by the International Baccalaureate, including its commitment to international education. The IB Learner Profile runs across all three IB programmes and, 'is central to the definition of what it means to be internationally-minded'. (IB Learner Profile Booklet. March 2006).
As we work with students on these concepts, it's also important to look at the ways in which all of us are good models of the learner profile. Below are some ideas for parents:
| | |
| --- | --- |
| As Inquirers, we nurture our curiosity, developing skills for inquiry and research. We know how to learn independently and with others. We learn with enthusiasm and sustain our love of learning throughout life. | Parents who are inquirers ask for information when they do not understand something. They call or email the teacher and say, 'Can you help me understand the homework assignment?' or 'Can you tell me a little bit more about the unit of inquiry and how it's set up?' or 'Can you explain the school's attendance policy?' NOTE: It's important to ask questions as they arise, rather than making a list and asking them all at once. |
| Principled people act with integrity and honesty, with a strong sense of fairness and justice, and with respect for the dignity and rights of people everywhere. We take responsibility for our actions and their consequences. | Principled parents work directly with the School when problems arise. They do not engage in gossip or speculation but always seek the truth directly from the School. They treat everyone – students, parents, teachers and administrators – with respect. |
| When we are knowledgeable, we develop and use conceptual understanding, exploring knowledge across a range of disciplines. We engage with issues and ideas that have local and global significance. | Knowledgeable parents spend time trying to understand the School and its programmes. They attend Open Houses, Back-to-School Nights, Parent Conferences, Parent Education Tuesdays and other school-sponsored events in order to get all the information they need. They read the Parent and Student Handbooks, the Programme Guides and the website and ask questions when they do not understand something. |
| Thinkers use critical and creative thinking skills to analyse and take responsible action on complex problems. We exercise initiative in making reasoned, ethical decisions. | Parents who are thinkers try hard not to jump to conclusions. They listen to what their children have to say and what the teacher has to say about a situation and then try to make the most objective decision possible. (This is a tough one when we're talking about our own children, isn't it?) They do not automatically assume that the child is always right or that the teacher is always right. They take each situation as it comes. |
| Communicators express themselves confidently and creatively in more than one language and in many ways. We collaborate effectively, listening carefully to the perspectives of other individuals and groups. | Parents who communicate well always go right to the source. If it's a classroom question, they go to the teacher. If it's a bus question, they ask the bus monitor or the bus coordinator. They make appointments and let the people involved know what the subject of the meeting will be so that no one is caught off guard or unprepared. They make sure that all involved people (parents and school staff) are invited to meetings. They speak and listen respectfully. |
| As open-minded learners, we critically appreciate our own cultures and personal histories, as well as the values and traditions of others. We seek and evaluate a range of points of view, and we are willing to grow from the experience. | Open minded parents recognise that PSI may offer curriculum and instruction that is very different from what they had at home. They are respectful of cultural differences between themselves and other families and between themselves and the school. |
| We demonstrate caring when we show empathy, compassion and respect. We have a commitment to service, and we act to make a positive difference in the lives of others and the world around us. | First and foremost, caring parents care about their children. This means that they are present in their children's lives and treat them with love and respect. They create homes where children feel safe. Secondly, we hope that they will be caring in their relationships with our staff. This means finding things to praise as well as things to criticise. It means being empathetic and recognising that teachers are people, too – people who have strong feelings about the children in their care. Approaching a teacher as a potential friend and ally makes a world of difference! |
| Risk takers approach uncertainty with forethought and determination; we work independently and cooperatively to explore new ideas and innovative strategies. We are resourceful and resilient in the face of challenges and change. | Risk-taking parents contact the school directly when they have a question or concern. They participate in school events like International Night, gala evenings, and PTA meetings. They present to classes about their home country or their jobs. They willingly consider strategies for educating children that may be different from their own experience or home country. |
| Balanced individuals understand the importance of balancing different aspects of our lives - intellectual, physical and emotional - to achieve well-being for ourselves and others. We recognise our interdependence with other people and with the world in which we live. | Well-balanced parents are interested in all aspects of their child's education. They understand that the whole child – physical, intellectual, social and emotional – all interact together. They encourage their children to participate in sports and the arts, in work and play, in intellectual pursuits and in building friendships. They are also well-balanced in their own lives, with interests outside the school and the lives of their children. |
| We are reflective when we thoughtfully consider the world and our own ideas and experience. We work to understand our strengths and weaknesses in order to support our learning and personal development. | Reflective parents look at what they can contribute to the school environment and to their child's education. Rather than expecting the school to solve all problems and address all concerns, they say, 'What can I do to help? How can I contribute to my child's education?' They listen at parent conferences and meetings and try to figure out the best ways that they can support what is happening in the classroom. |
B. Who Is Our Community And How Are We Organised?
Our School and School Community
In 1995, a group of parents from the diplomatic and business community opened Pechersk School International Kyiv (PSI) with just 47 students. The name 'Pechersk' is taken from the area of Kyiv known historically as the city's centre of learning, reflecting the discipline and integrity of the scholarship practiced at the famous Pecherska Lavra, now a UNESCO World Heritage site. The School's motto is 'A Place Where We Belong.'
Today, PSI is a modern, comprehensive, co-educational day school serving approximately 500 students from 45 countries between the ages of 3 and 18 years of age from Early Childhood through Grade 12.
Our staff is made up of 76 teachers from 12 different countries with the three largest national groupings represented by the USA (42%), Ukraine (17%), and the UK (12%). The remaining 29% represent 9 other countries! All hold degrees in their teaching area and many hold postgraduate degrees, including three doctorates.
Admission is determined by the age of the student, previous school reports, an admissions screening procedure, and the School's ability to provide a suitable programme within class size limitations.
The average class size is 16 students for Secondary homerooms and 18 students for Primary homerooms, allowing for significant personal attention. Our preferred maximum is 20 students per class. In some particular instances, we may exceed this number by no more than 2 additional students. An English as an Additional Language (EAL) programme is available for non-native English speaking students to support their language development. The School has no special provision for children with significant learning disabilities, but does have three full-time Learning Support teachers and five teaching assistants who offer support for students with mild to moderate special learning needs.
Governance
Pechersk School International is a not-for-profit entity incorporated outside and registered inside Ukraine.
The PSI Board of Governors is responsible for the long-term sustainability of the school as per the school's Mission, Vision, Core Values, Parameters and strategic direction. It is also responsible for the hiring, retention and annual evaluation of the School Director, the maintenance of financial oversight and any assistance that the school director may need in the provision of an ongoing quality school programme.
The Board consists of twelve voting members who may serve renewable terms of up to 36 months. In addition, three non-voting ex-officio members are appointed automatically each year: the director of the school, a teacher representative elected by the professional staff of the school, and a representative of the PTA. All voting Board members must be PSI parents. Elections are held annually, with results announced at the Annual General Meeting each spring.
The Board of Governors is committed to transparency and good governance. It welcomes contributions and insight from the PSI community at large and encourages this by providing a variety of opportunities for public participation. It does not deal with the day-to-day operations of the school. Questions or concerns about the School's programmes or functioning should always be addressed first to the appropriate school leader.
School Leadership
The leadership and management of the school are the responsibility of the director, principals, coordinators and administrative managers. The director reports to the board for the execution of board policy; the efficient observance of regulations by all employees; the administration, supervision and coordination of the work of the school sections and programmes; and for all other educational and community activities connected to the School.
The management and educational leadership teams handle the day-to-day operations and decision-making in order to achieve the programme objectives and strategic goals in the School.
The PSI Board Policy Manual is available to all students and parents on the School's information system.
Parent Teacher Association (PTA)
The school promotes and supports a parent teacher association that has three main goals: to support the whole school community by organising student, teacher and parent social events; to assist the school in fundraising efforts; and to encourage parent-school communication by working with staff to organise events where topics of interest and / or concern may be discussed / promoted. The PTA provides a structure for parents to become involved in and to further strengthen the PSI community.
All parents and teachers in the PSI community are automatically members of the Parent Teacher Association (PTA). PSI families can choose to become involved in many ways: as a classroom parent, a volunteer for one of the many PTA-organised events, or as a member of the PTA Executive Committee. This committee consists of a president, vice-president, secretary, treasurer, and coordinators for CISRI grants, arts, communications and newcomers, as well as a number of members-at-large. The committee also includes at least one PSI teacher designated as a liaison.
There are two meetings a month that anyone in the PSI community can attend. General PTA meetings are held monthly in the cafeteria. The PTA Executive Committee also meets at least once a month to provide support to the School, particularly as the PTA liaises with PSI teachers and school leaders, and to organise social events or fundraising activities. All PTA meetings have times and dates posted in the all-school activity calendar and in the Friday newsletter.
C. How Does The School Ensure That It Continues To Grow And Improve?
Accreditation and Authorisation
Pechersk School International is authorised as an IB World School by the International Baccalaureate (IB), and offers all three IB programmes. It is also accredited by the New England Association of Schools and Colleges (NEASC) in the US.
The school was re-accredited and re-authorised in 2018 after an extensive self-study process and a week-long visit from representatives of all three organisations. Our five-year renewal (the longest possible term for all three organisations) takes us to 2023. Beginning in the autumn of 2021, we will begin a 15-month reauthorisation / reaccreditation process through a new joint IB and NEASC collaborative learning protocol, concluding in spring, 2023.
In addition, PSI is a member of the Council of International Schools (CIS) in Europe, the European Council of International Schools (ECIS) and the Central and Eastern European Schools Association (CEESA), three organisations which provide professional development for teachers, networking for school leadership, and activities for students.
Strategic Planning
The final step of the accreditation self study was the development of a new strategic plan for 2017 - 2022. That plan has been refined based on feedback from the IB and our accrediting agencies. The board and school leadership set goals with input from parents and students through our annual climate surveys and our strategic planning review process.
The strategic plan is focused in three key areas of learning: personalised, balanced and thinking. The board and leadership set target goals in each of those three areas, and teachers set individual professional goals in one or more of the areas. The Strategic Oversight Committee which includes Board members, school leaders, teachers, and parents carries out an annual review and discusses possible targets each year.
In addition to the strategic plan, the board has approved Leading School Benchmarks (LSBs) to measure that we continue to maintain the programme promised in our mission. By annually measuring that we continue to meet these targets, we can focus school development via our strategic plan with assurances that we will continue to be a leading school.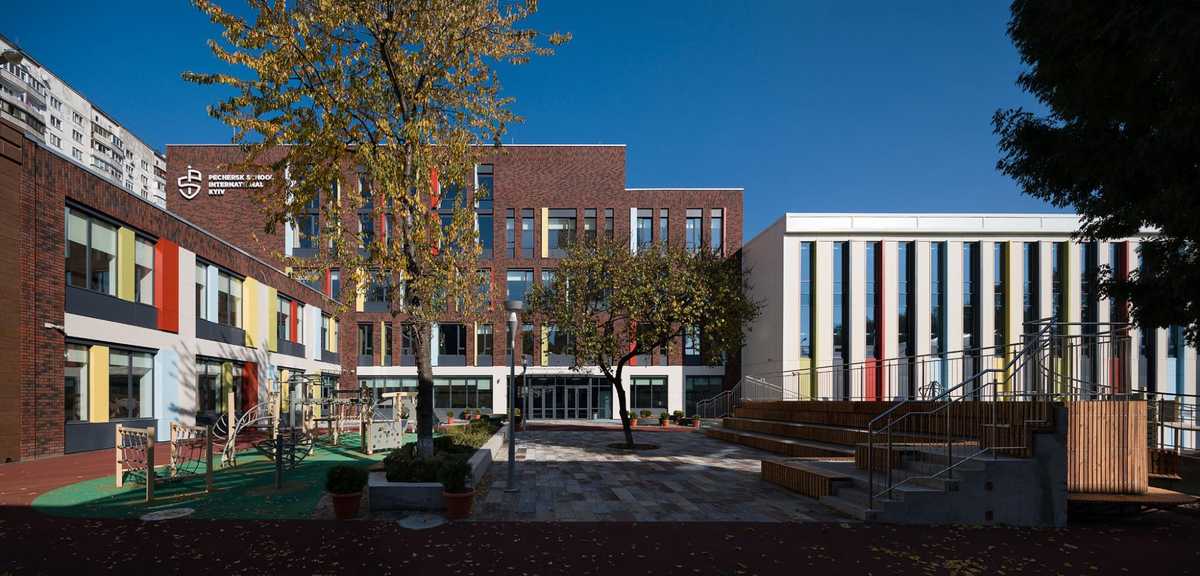 Building A, Building B and the gym face the EC playground and the amphitheatre.
Facilities
PSI has three buildings on its campus.
Building A is the newest addition to our campus. Opened in 2017, it holds the Early Childhood (EC) programme; a dance studio; cafeteria and kitchen; gym; swimming pool; EC - Grade 12 art, music and drama classrooms; science laboratories and classrooms; student study space; and the offices of the director, Secondary counsellor and IB Diploma coordinator.
Building B has Kindergarten - Grade 5 classrooms, the Primary library, a makerspace, the We Belong Cafe, the main reception area, admissions, the medical clinic and the offices of the Primary principal, deputy principal / PYP coordinator, and Primary counsellor.
Building C houses Secondary School classrooms for English Language and Literature, English as an Academic Language, Language Acquisition, Individual & Societies, Mathematics, and Design, as well as office space for ECAs, the Ukrainian programme, the cashier's office, transportation, and security. The Secondary library is also housed in Building C, as well as the offices of the Secondary Principal, and MYP Coordinator / Assistant Principal.
In addition, the campus features wireless laptops networked with Internet connections. The two libraries combined contain more than 24,000 books and periodicals as well as computers designed for all age groups. The science laboratories have been equipped to serve as centres for IB Biology, Chemistry, Environmental Sciences, and Physics.
There are over two acres of outdoor area, including a small amphitheatre, covered football pitch, basketball courts and two playground areas, one for EC and Kindergarten, the other for Grades 1 - 5. The site is completely enclosed with a gated entrance under 24-hour surveillance by security guards. In addition, PSI uses a soccer pitch and running track, which is shared with a neighbouring local school.
Eco School Status
PSI is proud of its initiative to 'go green.' The school is currently seeking to address the standards of the United Nations Committee for Climate Change. As a result, you will see many efforts on campus to make PSI more sustainable. This includes a recycling programme run by Secondary students, a composting area that serves as a teaching centre for younger students, and regular requests to bring your own plates and flatware to school-wide events like International Night in order to cut down on the use of plastic and paper plates.